April 9, 2014 @ 11:55 PM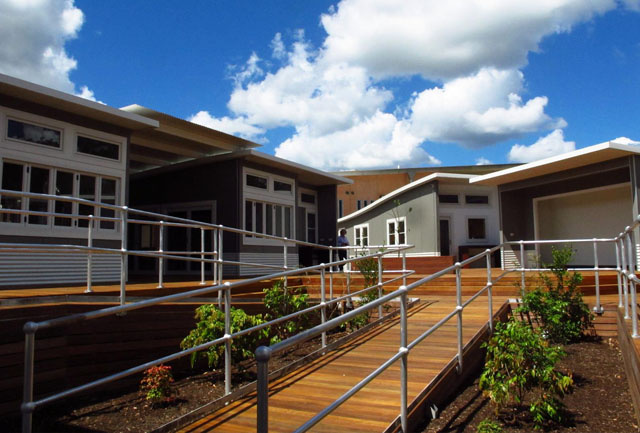 For the past two years I've been working with Architect Kevin Bradley on a collaborative design project between Designing Out Crime (DOC) and Corrective Services NSW (CSNSW) to design and construct a therapeutic learning centre within the context of a maximum security prison.
The Intensive Learning Centre (ILC) at Mid North Coast Correctional Centre marks a monumental step forward in the delivery of correctional based education in Australia. The brief challenged DOC to create a facility which contrasted the typical harsh environment of maximum security prison and offered a space geared toward education and rehabilitation. A framework was established which outlined various barriers that stood between a learner's current position and a place of citizenship within the outside world. These barriers were then reframed as various scales of community, each offering opportunity for learning and personal growth. The framework was then utilised to plan the intentions of each space, ensuring a variety of areas which facilitated interaction with various scales of community.
This approach married well with our intention to create a space which also supported the process of Aboriginal learning. A flow of interaction was explored which allowed new knowledge to be introduced as large class groups in round table discussion, before breaking into smaller groups for problem solving, then owning knowledge as individuals before returning knowledge back to community. The classroom furniture and sandstone yarn circle encourage knowledge transfer through discussion, story telling and performance.
During the design process inmates, teachers and CS staff were consulted heavily as well as invited to attend co-design workshops which provided opportunity for stakeholders to voice their needs and develop the design through all stages of the process. Beyond this inmates were engaged in the entire construction, fabrication and installation. The building modules were constructed at St Heliers Correctional Centre by inmates within the Gundi employment pathway program, whilst the furniture was fabricated by inmates within vocational training programs in Corrective Services Industries across the state.
Above image courtesy of CSNSW
The centre was opened by Commissioner Peter Severin and Minister for justice Greg Smith on Wed the 2nd of April 2014. The ILC program will consist of a 6-8 month intensive course focusing on numeracy, literacy, IT, creative arts, cultural studies and vocational training.
In the coming years a detailed evaluation will take place into the effectiveness of the ILC prototype, with the view to create an entire prefabricated and furnished ILC model suitable for implementation in other NSW Correctional facilities. Initially, DOC is leading a Post Occupancy Evaluation, covering functional, technical and process performance, beyond which I am carrying out a PhD exploring the relationship between the design of the space and it's impact on educational, therapeutic and cultural growth.
Stay tuned...It's a long road ahead!
Credits:
Project management: Rohan Lulham and Douglas Tomkin
Architect: Kevin Bradley
Industrial Designer: Tasman Munro
A few concept sketches: