September 8, 2020 @ 11:50 AM
The My Plate Your Plate food carts are now roving events around Sydney!
My Plate Your Plate is a social design project that brings refugee and asylum seeker communities together with Inner West residents to exchange recipes and stories about food and culture. (The project was initiatedby Inner West Council but involved many collaborators that are listed below).
Using co-design as a space for community to connect meaningfully and share lesser known stories:
My Plate Your Plate began before covid, each week the group met at the Refugee Welcome centre in Callan park, each session 2 people would cook as the rest of us gathered in the kitchen watching closely, we built friendships and learnt great recipes from across the world.
And the, over lunch people shared stories about the recipes and their connection to family, special occasions and important places in their life. These were recorded and edited into a series of audio stories.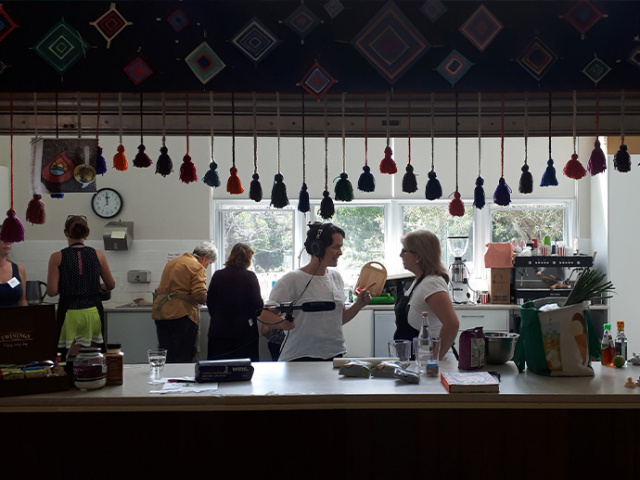 During these gatherings we also designed the food carts, we spoke about the experience we wanted to create and invited the group to share pictures of market stalls, furniture and patterns form their home country. We combined these diverse elements and designed two carts that meet, symbolising my plate, your plate, and the exchange that happens when the two come together.
I then CAD modelled the carts to be constructed out of CNC ply.
And we designed a range of graphics to be printed on parts of the food carts. This included logos that illustrated two meals that were cooked during the workshops (Including Aashe Rashteh, illustrated below) and patterns for the handles - one referencing the Australian bush and the other referencing tiles that people remember being in restaurants in Iran.
Continuing to connect and share through collaborative making:
The carts were then constructed them together with a number of the participants.
The fabric awning was then designed by one of the community members, Elham and made by the group.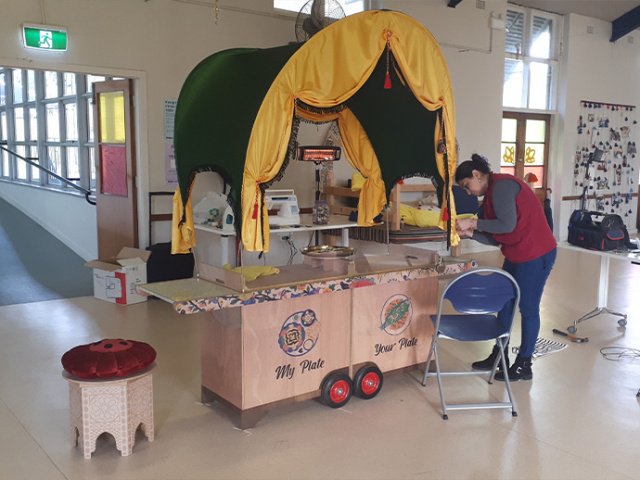 The finished carts working as a storytelling installation:
Now at public events the carts create space for the wider community to come and meet members of the group, sit at the carts, try a recipe, and listen to the stories that were recorded during the project - creating a storytelling experience that delights all the senses.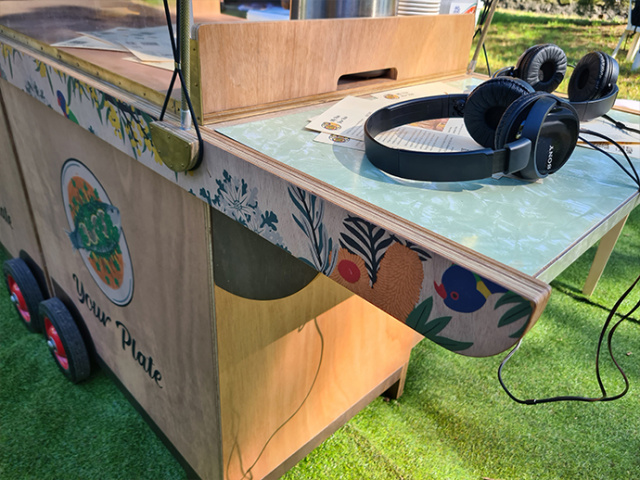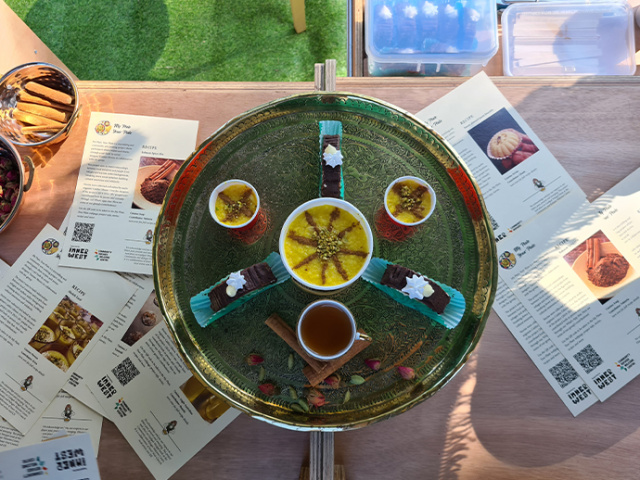 A big congratulations to:
Inner West Council and the Community Refugee Welcome Centre. For hosting the project
Raffaela, Community Arts Project Officer at IWC, who was the amazing project creator and lead
All of the incredible community members involved in the project
Tasman Munro, social designer, for leading the design and construction of the food carts, and Lucinda and Mehran for assisting with the build
Elham, master sewer for leading the design and sewing of the fabric awning
Caitlin Gibson, audio engineer, for recording and producing the audio stories
Moones, Coordinator at the Community Refugee Welcome Centre for offering ongoing project support
View the recipes and hear the stories HERE, and an interview about Social Design and the project HERE